You can save by booking at least 30 days before arrival

You are here
Sustainable Venice
Sustainable Venice



Venice is the only city of its type in the world and a UNESCO World Heritage Site representing a cultural and natural asset of exceptional value, demanding its preservation and transmission to future generations.
A sustainable tourism - not altering the natural and artistic environment, and not obstructing the development of other social and economic activities in harmony with the daily life of residents - is necessary to preserve the extraordinary beauty and uniqueness of Venice.
#EnjoyRespectVenezia is the City of Venice's awareness campaign designed to direct visitors towards the adoption of responsible and respectful behaviour towards the environment, landscape, artistic beauties and identity of Venice and its inhabitants. The objective is to raise awareness of tourist impact, with the belief that responsible travelling can contribute to sustainable development.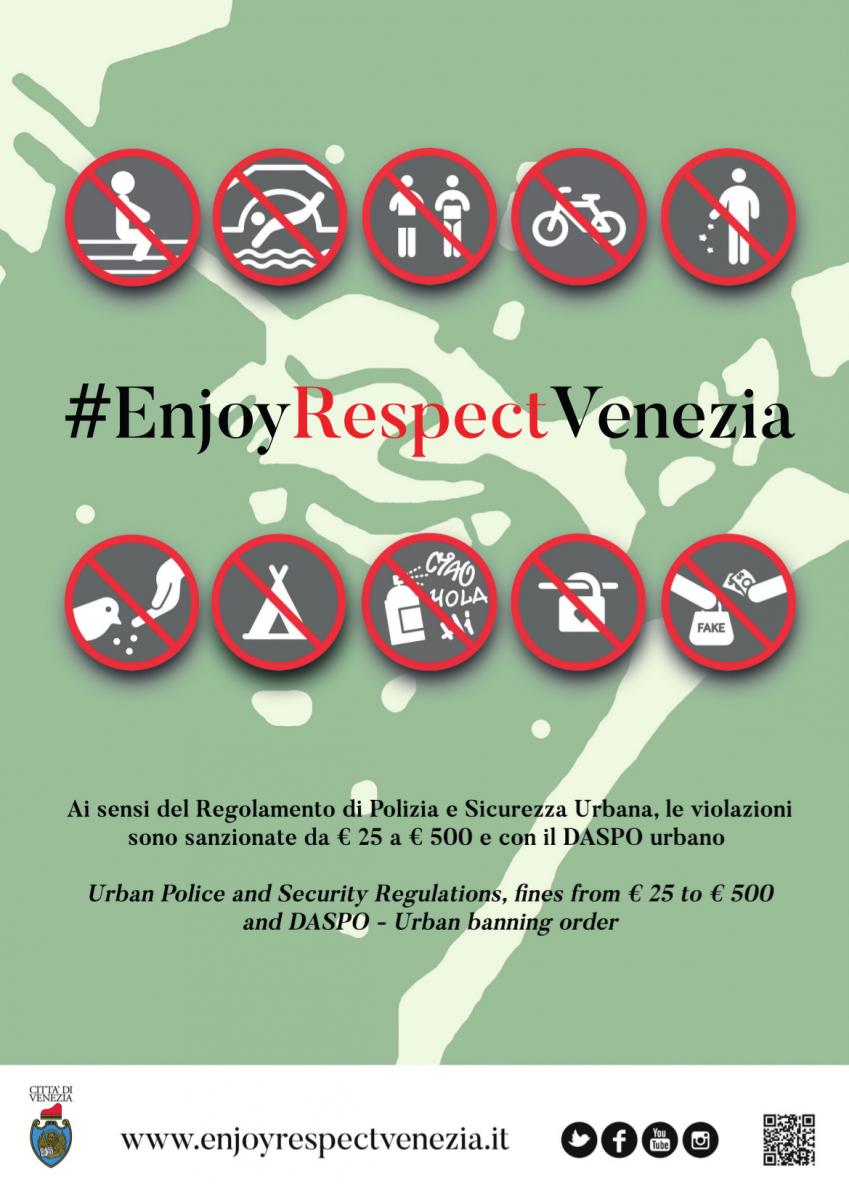 12 good rules for the responsible visitor make up a sort of handbook with advice and recommendations to become travellers that are more aware and respectful towards Venice's landscape, environment, artistic beauties and identity.
1. Discover the hidden treasures of Venice in the least visited places to appreciate Venice's exceptional beauty.
2. Explore the islands in the lagoon and Mainland Venice, participate in events spread throughout the Metropolitan City.
3. Taste the local products and typical Venetian cuisine.
4. Visit the artisans' workshops and learn about the ancient trades that still exist today in Venice. Choose only original products and do not buy any goods from illegal vendors.
5. Book tours with qualified tourist guides able to recount Venice's thousand-year-old history.
6. Walk on the right, do not stand at any time on bridges, do not even lead bikes by hand.
7. Steps of churches, bridges, wells, monuments and banks of streams, canals etc. are not picnic areas. Please use the public gardens for this necessity. Consult the map.
8. St. Mark's Square is a monumental site and excluding pertinent bars and restaurants, it is forbidden to stand at any time in order to consume food or drink.
9. Venice is a city of art: it is forbidden to camp, walk about in swimwear, dive and swim. The beaches at Lido and Pellestrina can be easily reached.
10. Respect the environment and artistic wealth: do not litter, do not vandalize with graffiti, or padlocks. Do not give food to the pigeons.
11. If you are staying in an apartment or flat, please get informed about the garbage recycling collection.
12. Plan your trip and choose to visit Venice when it is less crowded.
---
What is Sustainable tourism?
Sustainable tourism is tourism committed on the one hand to generating a low impact on the surrounding environment and community by acting responsibly and on the other hand it is committed to generating income and employment for the local economy, aiding social cohesion. Undoubtedly, it is getting harder and harder to reconcile the need of generating income for the local economy and at the same time preserving the environment. Too little tourism and the city cannot live. Too much tourism and the city cannot live the same. We think that the solution has to be a different kind of tourism.
What does sustainable tourism mean in practice?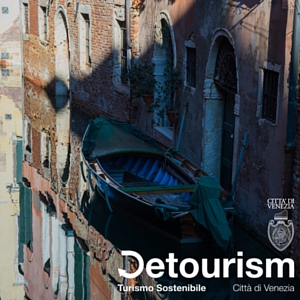 Seasonal and geographical distribution: a more even spread of visitors reduces pressure on natural environments and on communities, and maximises the economic benefits. Venice tailors its marketing campaign to encourage a spread of visitors throughout the year and around the country, e.g. Detourism campaign.

Greener transport: Transport is central to tourism, but it also weighs upon natural resources and influences our global environmental impact. Venice encourages visitors to use public transport and innovative development of cleaner forms of transport.

Understanding the impacts: We need to work with partners to measure the environmental and social impacts of tourism, in order to ensure that tourism development brings a positive experience for local people, tourism companies and the tourists themselves (e.g. ETIS project).

Greener accommodation: All accommodation providers should minimize their waste of energy and water use. The City of Venice encourages businesses to reduce their environmental impact.
A sustainable approach to tourism benefits both the city and its visitors. Visitors benefit from a sustainable approach to tourism through better links with local communities, a high quality tourism experience and a natural and built environment that is cared for. Becoming a sustainable tourism destination will give Venetian tourism businesses a competitive edge by generating greater community support for tourism, achieving cost savings and creating new marketing opportunities.

The City Council of Venice is actively promoting a sustainable tourism. We are developing dedicated projects such as:
The DETOURISM campaign run by the Tourism Department of the City of Venice promotes slow and sustainable tourism, encouraging travellers to go beyond the usual tourist sights, stumble upon unique experiences and see Venice with new eyes. Becoming a "detourist", you can discover what the guidebooks don't tell you. You will leave the beaten track and experience unexpected encounters. The main message of the #DETOURISM campaign is that the best way to discover the true soul of the city and to experience Venice as the Venetians do is getting off the main path and wandering away from the well-trodden tourist routes.
#DETOURISM offers travel tips for a Sustainable Venice and suggests what to see and where to go in Venice to get a more local look at the city. The #DETOURISM campaign gets its messages across different media such as websites, a thematic city map, a web magazine, a weekly newsletter, Facebook, Twitter, Google +, Pinterest, Instagram and Youtube.