01

SAVE UP TO 30%


02

FORGET THE QUEUE!


03

BUY YOUR CITY PASS IMMEDIATELY

You are here
VENEZIA UNICA NETWORK


Sales points are found not only in the Venice municipal area, but also in other parts of the province, for example at Dolo, Chioggia, and Sottomarina). Click on a Venezia Unica "Point of Interest" and you will find the complete list of services on sale at the corresponding sales point.
---
Self-service ticket machines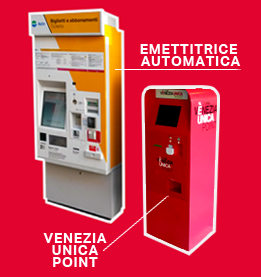 To obtain any Venezia Unica services purchased online, please go to the automatic ticket machines. You can get your Venezia Unica through QR voucher code reading or - for automatic ticket machines only - manually inserting your PNR.
Customers who receive a paper receipt instead of change can get a cash refund from any Venezia Unica point of sale
Alternatively, you can go to one of the sales points .
---

Authorized Retailers

In the city centre of Venice (including the islands), and in Mestre on the mainland, there are many authorized retailers for the sale of ACTV travel documents.
The map below shows all the Authorized Retailers
The locations marked with

indicate Retailers in Mestre and on the mainland.
The locations marked with

indicate Retailers in the city centre of Venice, and on the islands.