01

SAVE UP TO 30%


02

FORGET THE QUEUE!


03

BUY YOUR CITY PASS IMMEDIATELY

You are here
Burchiello

IL BURCHIELLO
A romantic cruise among the Venetian Villas of the Brenta Riviera
Every year, from March to October, a romantic mini-cruise among the Venetian Villas of the Riviera del Brenta, from Padua to Venice or the other way round, a trip through art and history on the way followed by the ancient Venetian Burchiello in the 1700's.
Today the Burchiello is a modern and comfortable boat, equipped with a cabin and comfortable sofas, air-conditioning, a bar and toilets, and a panoramic deck that offers passengers a full view around.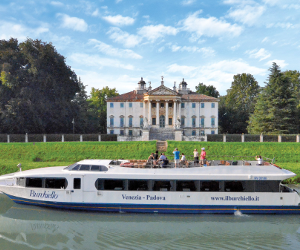 The programs offer navigation from Padua to Venice (Padua, Stra, Dolo, Mira, Oriago, Malcontenta, Fusina, Venice) or from Venice to Padua (Venice, Fusina, Malcontenta, Oriago, Mira, Dolo, Stra, Padua), plus the guided tour inside some Venetian Villas, the famous richly-frescoed summer dwellings of the Venetian noblemen of the 1700's.
The full-day mini-cruise, recommended in order to appreciate the extraordinary beauty of the Riviera del Brenta, includes navigation, a guide on board, the guided tour of Villa Foscari known as La Malcontenta, Villa Widmann in Mira and Villa Pisani in Stra, plus a stop for the optional lunch at the famous restaurant Il Burchiello in Oriago, where the barge moors.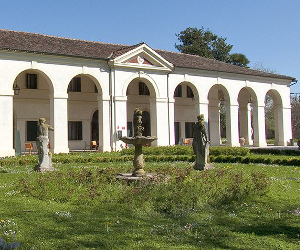 ITINERARY


NAVIGATION PROGRAM - ENTIRE ROUTE

8.00 am - Embarkation in Padua

↓

/

6.45 pm - Arrival in Padua

– at the historical Burchiello's Stairway at Portello, ancient river port of the city;;
cruising along the original course of the old Venetian Burchielli of the 18th century, passing in front of the gorgeous and suggestive Villa Giovanelli at Noventa Padovana;

passing through Noventa Padovana and Stra Locks, overcoming the water level;

stop in Stra and internal guided tour of Villa Pisani, the popular Doge's Palace on the mainland. It is a palace, with a main facade decorated by enormous statues, painted inside by the greatest artists of the XVIII century;

after the visit, navigation with illustration of the different Villas seen from the river;

passing through Dolo Lock and overcoming the water level;
arrival in Mira, where we meet the highest concentration of Villas, we can admire the famous facades along the Canal, the green bends, the untouched corners where the willowtrees caress water of the canal;

passing through Mira Lock, overcoming the water level;
stop at Mira for the internal guided tour of Villa Widmann, a typical residence of the XVIIIth century with its important frescoes and delicious garden;
lunch break in Oriago, at the famous restaurant Il Burchiello; optional discounted lunch or free lunch; cruising amongst villas, villages and swing bridges with illustration of the various Villas seen from the river;
stop in Malcontenta for the guided tour of Villa Foscari, one of the masterpieces by the genius of Andrea Palladio. It is an example of Temple with a great pronao reflecting , melancholic and superb, on the water of the Brenta Canal;
arrival in Moranzani; passing through Moranzani Lock, overcoming the water level;
5.30 pm - Arrival in Venice /

9.00 am - Embarkation in

Venice

↑

, San Marco - Riva degli Schiavoni - Landing stage "Pontile della Pietà".

BUY NOW
BUY NOW